Text: Marina Chicheva, Ekaterina Nikolaeva, Aliona Ryne
Photo: Vladislav Kolodyuk, Oksana Kudzhaeva, Aliona Ryne
In October, our portal turned 4 years. This means 1460 days or more than 2000 articles for you during this time. We can say with confidence that we have become a full-fledged player in the 18+ industry. We always strive to be the first to report the news, test new products and take part in industry events.
Traditionally – numbers
For four years, 2273 articles in Russian and English have been published on our portal. Of these, in Russian for this year (hereinafter – according to data for January-October 2021), we published 683 articles in Russian and 334 articles in English. In 2021, we opened a new section "Books", in which 30 reviews have already been published, and recently launched the "Sex education" section, where (so far!) there are ten articles.
At the same time, this year alone we have published about 700 posts in each of our social networks accounts. Almost two thousand stories were published on Instagram since the beginning of the year. Now reels appeared and there are only 18 of them so far, but the our video champion has already gained almost 250,000 views! During this time, we have published 47 videos on our YouTube channel. Every time we see a like under our post, or an increase in views on the YouTube channel, or your mentions of us – we are sincerely happy with the whole editorial staff and want to try even more for you! And for our English-speaking audience, we started an Instagram account in English.
We now place banners not only on the main page, but also above news articles. According to our calculations, such a banner receives fr om 50,000 to 300,000 impressions per month, depending on the selected newsgroups, and about 8,000 clicks for every 50,000 views.
By the way, about you. During this year, the audience of our social networks has grown on average one and a half times, and the site has been visited by over 700,000 people during the year, and these are not only industry participants, but also the b2c audience, the contact with which we are very proud of!
The number of articles in Russian and English, published during this time.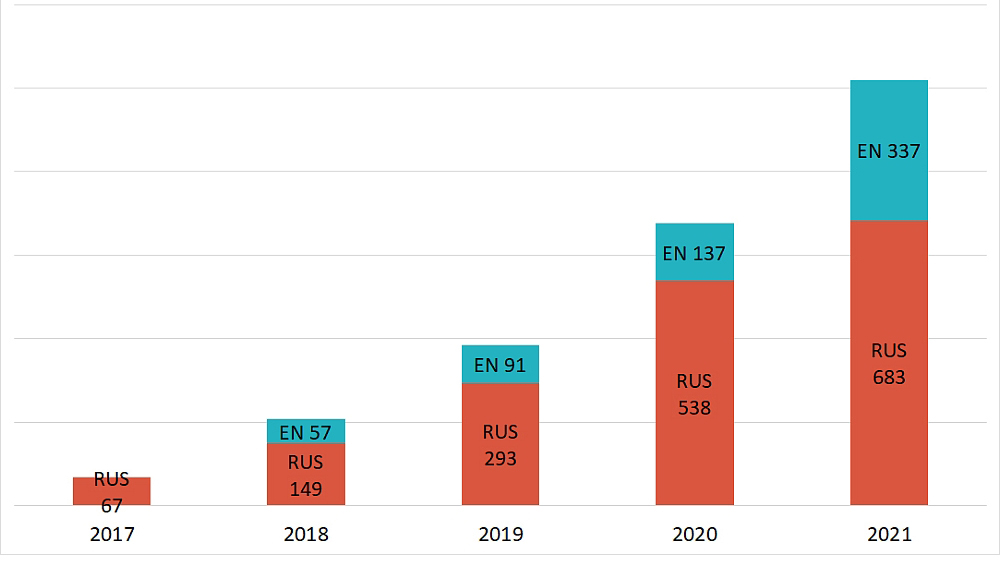 How we grew up
2017 year. The idea of the site is discussed, the first articles appear, headings are selected. We immediately begin to cover the events of the adult goods industry, translate articles fr om foreign sites. In the first year we visit EroExpo, where we announce the creation of Sexshopers, talk about the events in Hanover and Tyumen. By the end of the year, realizing that what we are doing is valuable and interesting to you, we launch social network accounts: Instagram, Telegram, VKontakte, Twitter, Facebook.
2018 year. We are launching the English version of the site, we more than double the number of publications in Russian! We visit Thaifest, Forus, EroExpo. We launch the "EroExpo Faces" project at the exhibition. Since then, we have been constant participants in these events! At the same time, we regularly translate for you news about the largest events overseas, such as ANME, XBIZ or ADULTEX.
2019 year. The most popular and fastest growing section "Bloggers Page" appears on the site. The editorial office is expanding fr om 2 to 5 people. And also in time for the second anniversary, we are creating the section "Interview", and in four months of 2019 there are 12 publications there! By the way, this year we continue to expand the geography of events by visiting the ETO-Show in London, eroFame in Hanover and making a series of reports from the CHINA ADULT-CARE EXPO in Shanghai.
2020 year. Despite COVID-19, this year has become even more successful for us. First, we quickly tell how manufacturers and suppliers are mentally and physically experiencing lockdowns. Secondly, together with you we hope and wait (first) that all restrictions will be removed and the planned events will take place. And then we just start broadcasting online, filming a series of reports under the general title "Instead of the exhibition", wh ere we show new items. The team is growing, there are already ten of us, and the geography of the editorial office includes not only Moscow and St. Petersburg, but also Samara and Yekaterinburg.
2021 year. Finally, FORUS, Thaifest and EroExpo are taking place, wh ere we are telling you about right from the scene. New interesting sections appear on the site. In addition, we thought hard and began to massively publish articles on Instagram and Telegram. Read us wh ere it suits you! For the new year of 2021, we raffled off three multi-brand baskets, and at the exhibition we gave out more than 60 bags with gifts, thanks to the companies that support our site! International cooperation is expanding: we now receive news from many brands directly. And here's what's surprising: the more we work for you, the more interesting things appear for publications. At a rate of two or three publications in Russian and one or two in English every day, the publication plan is fulfilled several weeks in advance! And it is only the beginning!
Number of site views by year.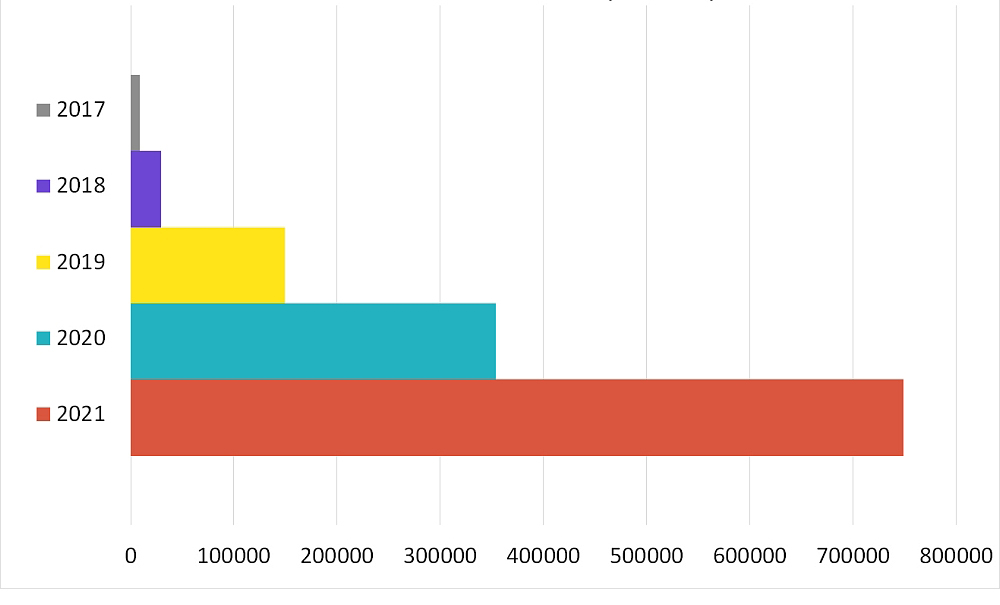 Stay tuned, dear readers, all the fun is yet to come!